In 1858, when he was 24 years old, Bernhard Stoewer opened his own repair workshop in Stettin. In the same year he began to produce sewing machines and historical analysis later proved that this was the second oldest sewing machine factory in Germany. All beginnings are difficult - and this one was no exception. In the first year, with a staff of 3 mechanics and one apprentice, 3 machines were produced. At this time the sewing machine was almost unknown and demand from tailors developed only slowly, although steadily, as the advantages of a sewing machine over handworking gradually spread by word of mouth. Nevertheless, in 1865 250 machines were completed, in 1875 1,200, and the number of staff had increased to 250. In 1883, 25 years after the company's founding, there were 1,000 workers and they made 18,000 machines. The peak of production was from 1905 to 1913 when more than 70,000 units were produced each year.
Cycle production started in 1893. Bernhard Stoewer's decision to do this demonstrated, again, his flair for choosing a new and unknown product that would become very popular - and cause a lot of money to flow into the factory's coffers. The same applies to the establishment of the production of typewriters in 1903.
The following newspaper advertisement shows, at a glance, the 3 main Stoewer products. A variety of other products were also made, e. g. machine tools, washing machines, wringers and sulkies for trotting racing.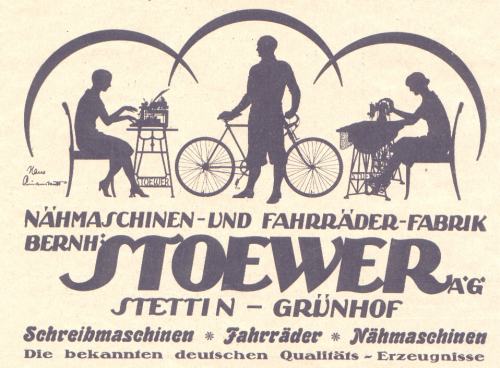 The first World War caused production numbers in all 3 lines to sink rapidly. This was especially so for the sewing machines, which were the factory's backbone, and after the war productivity never reached its previous height. The reason was partly because competition from both foreign and home competitors became even stronger and partly because the economic crisis of the 1920s caused people's spending power to drop. The factory had become too big and so it could not survive the crisis years. In 1930 production halted, the liquidation process began and the company closed in 1933.


In total 1,868,500 sewing machines, 319,000 cycles and 134,600 typewriters were produced.

In 1931 the sewing machine branch was sold to Adolf Knoch's company in Saalfeld, Thüringen.

The Bielefeld company, Falter-Werke, acquired the rights to the "Stoewer Greif" name in 1938 and from then on made bicycles under this name. In the 1950s mopeds and small motorbikes were also made using the same name. The last Stoewer Greif bicycle was made in Bielefeld in 1999.

A part of the typewriter production was taken over by Rheinmetall in Sömmerda, Thüringen.


---
Following are some advertisements and illustrations taken from leaflets.